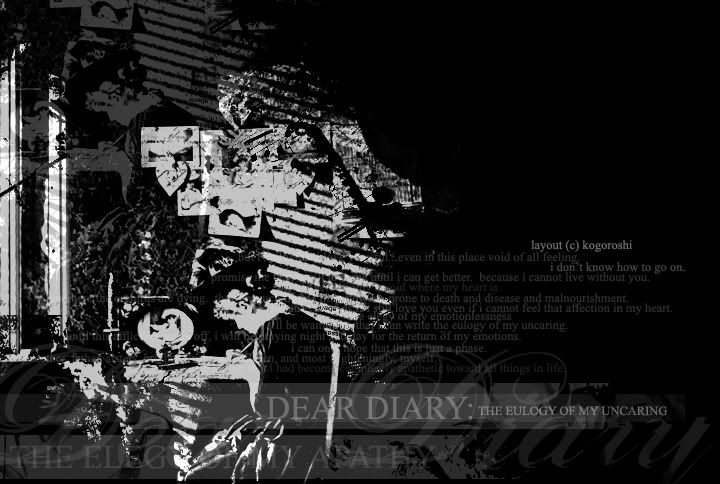 Looks like it has been some time since i last posted..life has just gotten really hectic. This is gonna be a full on year for me...NO BREAKS!!! ARGH!! Just finished my 6 week prac down south in a beautiful town called Collie (will post up pics if I remember/have the time to do so). Entering my 3rd week of uni now..how time can really fly!

Quick update of what happened:
1. Got my Aussie PR. WOOHOO!!! Say goodbye to expensive school fees!
2. My entrance exam into medicine will commence in 2 weeks! Therefore explaining why am I so busy! =)
3. I just found out (after 2 mths) that my new phone cant be fixed! GAH!! What a waste of my time!

I think thats all I can remember for now =) Life goes on as usual...


Everyone...check this site out, it is a small business started out by a friend so pls spread the word.

http://petreesmeizhen.blogspot.com/

Now it is time to resurrect this blog =)

The plane trip back was horrible!!! Small seats, bad weather (turbulence), not so pretty air stewardess, absence of in flight entertainment...HORRIBLE!! All I can say is that I paid for a plane ride and got a roller coaster ride instead. There is this mom with 2 kids sitting behind me and the kids were just making SOOOOO much noise..kids are kids, wont blame them but that just adds up to my 5hr torture. Didn't get much sleep on board or should I say I couldn't. One good thing from this trip is that I got to know this couple who were going to Thailand for a holiday..nice people =)

The seasonal rain and wind made the plane into a roller coaster -_-!! After I touched down, I only realized that they don't have one of those attachments to the airport. In the end, the passengers had to walk down the plane and into the airport bearing in mind that it was pouring...At least umbrellas were provided.

Really glad to see mom and dad waiting outside for me. Gotta thx them for coming all the way out 3am in the middle of the night with work in a couple hours to come pick me. Got to see my lil bro who is all grown up now =) Time flies...

Caught up with grandma too =) Glad that she could still remember me as her dementia is getting onto her. All these years, she had lost so much weight. All that is left is literally skin and bones. Mobility is now an issue for her but I suppose if she is still healthy, all is well.

My final rant...the weather is HORRIBLE!!! This weather is making me feel all sticky and dirty. Oh well, that is to be expected from a tropical country.



In another 2 hours I'll be on my way to the airport and 4 more hours, I'll be on board and ready to go home. It's been a long 3 years since Ive last set foot back home. Cant wait to see how mom and grandma are doing. Lets hope the weather will be good and that I will have an enjoyable time..hehe
YAY!!! Today marks the end of my 2 week ordeal. Finally got my toughest paper out of the way!! 4 more days till I get back home..cant wait =) Let the countdown begin!!!

Monday marks the start of the two week ordeal most Uni students will face...and thats EXAMS!!! Hope everyone is ready for their exams and not go bald (pulling hair/hair loss due to stress), start getting lots and lots of pimples or even huge weight gains. =) Hang in there everyone..the two weeks will fly past really quick and then start planning on the HOLIDAY activities..hehe

All the best!!! =)

Down to the last day on uni..yay!! This day is supposed to be nice for everyone to tune themselves down and getting ready to get into the study mode for the coming study free week..but NOOO, its not a nice quiet 1 for me. First thing in the morning, 9am, anatomy lecturer came in and showed us some really GRUESOME pictures on operating the hand..argh!! How very nice of him..just made the whole class lost their appetite -_-!!

Being that studious student, I decided to attend the last class of this semester (5-6pm). Went in there and found out that its a revision lecture..GREAT!! Time is gonna fly and it wont take more than 20mins to get thru everything. BUT NOOOOOO, at the end of the lecture, my lecturer decided to PRANK the masters students. Out of no where, she decided to ask 2 masters student to come down to the stage and present to the whole LECTURE CLASS. Guess what!! I was one of her lucky pick o.O Despite much reluctance, she render us no choice. The presentation should not be a problem for my friend as she just had the same presentation earlier today. On the other hand, I did mine a couple of weeks ago and there is no way i can be prepared. In the end, I still manage to pull something out of my head (somehow) to talk about to the whole lecture hall..gosh! What an experience!! =S

Finally, I've managed to wet my fishing line after months of commitment to my books =) Woke up today at 7am and the weather looked fine..a little cloudy but still manageable. Prepared my gear, had my breakfast and went down to Fremantle. When I reached there, I found out that the water was too choppy for squidding, but I still tried anyway. After an hour of casting and retrieving, I had no luck. Worse of all, friend's line got tangled with mine and i lost my lure..hix Decided to swap over to catch some fish instead and got a few fish..nothing worth mentioning. The rain decided to come down on us as we were just about to leave..what a good timing =)

Since my sis is complaining, now I'm going to talk about her. One fine morning, we did the usual preparations before going to uni. The day went smoothly until my sis gave a big scream as I was about to park my car. She found out that she didn't had her shoes on and instead, she has her pink furry bedroom slippers on -_-!! Started to panic a little but luckily she had a friend who stayed close by and managed to borrow a pair of shoes for her LAB.

Alright, enough of that bad stuff..now for the good. I told sis that I haven't tried famous Amos cookies. So the very very nice her decided to buy a packet for me. So, there u go, thx sis for the nice cookies..=)

Didn't end up going fishing/squidding today as it was raining..but I'm still determined to go tomorrow =) Lets just see how the weather fares tomorrow..NO RAIN PLSSSSS!! Planning to catch some tuna and squid tomorrow..lets just hope they are there..hehe Ended up sleeping in today and then head off to work..argh! Work was alright today..not too boring..and for once there is that new person accompanying me..hahaha

Stupid thing happened again today..this guy changed lanes without looking -_-!! but this time round i was soooooo infront of him and i can see the front of his car nearly scraping to the bum of my car.. gosh, why am I attracting ppl to come bang me these few days. Should stop driving for a few days and see if that bad luck goes away. Hope tomorrow will be good and I shall be determined to study!! =)

YAY!! Final report done! Now I can put all my heart n soul into my anatomy..grrrr >< Another long long day...lots of things to do at work again. On my way back..nearly got hit by a car that was not looking when he swapped lanes..STUPID DRIVER!!! Good thing my reflexes are still working properly and I managed to dodge him and got to the other lane...-_-!! Guess I was down with my luck or something...

Made plans to go catch some fresh squid tomorrow morning at 7..hope I could wake up HAHA. It is also predicted that its gonna rain tomorrow so hopefully it will rain in the afternoon and not in the morning...yum!! fresh buttered squid. Haven't had that for some time now =)

What a great day~!! Got back my results for both my presentations. Got 12.5/15 and 8.5/10 respectively..hehe =) Can't be happier with those results..hehe 1 more assignment to go for tomorrow and I'll be FREEEEEEEE to study..hahahah

Can't believe lecturers are starting to give us revision questions...that just means that exams wont be too far off =S Time to gather all my determination and hope no more late nights for me =)

Finally found the time to get my car's window fixed. Not sure what the real prob is but I'm sure its something to do with the window not attached to my power windows properly..haha So basically I cant lower my window without manually pulling the glass down -_-!! Good thing this shop that i went to offered a lifetime warranty on their workmanship so that didn't incur me any additional costs YAY!! =) I still had to wait another 24-48 hrs for the glue to set before I can use that window again..oh well, better than manually doing it..hehe

Went shopping after that and got myself an electric blanket..WOOHOO, no more cold bed =) For those that don't know what an electric blanket is..its not something that I shock myself with but to warm the bed up =Þ Winter is here and my bed feels like a block of ice whenever I sleep on it and it will take me at least 5mins to warm it up using my own body's heat but now, I can expect a warm bed..yay!! NO more waking in the middle of the night cos I accidentally slept on the cold side of the bed...hehe. Sweet dreams here i COME!! =)

1 last assignment to go and I can finally sit down properly and study for anatomy..argh..the only unit that is killing my brain cells. Lets just hope I've got enough time to revise =) Btw, assignment is due on coming Fri..I better start now =)

WOohoooo thats 1 HUGE assignment DONE!!! 1 more small assignment to go and its a straight shot to exams =) So slack today, just kept on sleeping. Woke up and just lightly touched the books. Oh well..guess I deserve my rest =) Hard work starts tomorrow..hehe =)
ASSIGNMENT DUE TOMORROW!!!!!!! Stressful part of this assignment is that I don't know if I'm writing my essay the right way my lecturer wants....She didn't give us much information and when i asked her she just said..go read the unit outline -_-!! I wouldn't ask if I knew what to do. oh well...another 300 more words to go and I'm done. Cant wait for tomorrow to end ...then I'll just end up with 1 last small assignment to go before i start sitting down to study for my exams. Can't wait for Thursday too..Pirates 3 is OUT!! Thats my excuse to relax after this assignment..hehe =)

YAY!! Finally no more presentations!!! WOOHOO!! Pretty happy with the outcome of today's presentation..lecturer gave some really good comments but we won't know till we get the marks back =) What a long and tiring day..had to go work after class =[ Work was pretty alright today..one of those quiet days where u just sit around not do anything and still get paid..LOL guess I cant complain to that =)
Due to work commitments, I can't go to Nat and Ki Ju's bday dinner =( But i still manage to make it to the after dinner party..hehe Someone suggested DDR..and I've got no clue as to how that game works. Leg eye coordination is all over the place and felt kinda klutsy..haha, guess thats alright for the fun of it =)
Here's the MOT gang =)
This is going to be 1 STRESSFUL week. 2 presentations and 1 written assignment due. Got 1 presentation and 1 assignment done and 1 more presentation to go..=/ Presentation was soooooo bad this time round. Could be due to the early morning and brain's not fully awake yet. Cant believe I got my tongue tied =[ Hope I've not let the rest of the group down. Lets just hope tomorrow's presentation would be a good 1 =)
Congrats to Janice for finding and moving into such a beautiful home. Great house warming party but where is the usual crowd?!! Anyways, I got there at 9ish and found out that there are only 3 other friends there and 1 of em is already half drunk..haha Cant imagine just 3 months into the semester knowing these guys..I've already seen 1 of them going 'high' over the alcohol..what a day! Being the safe driver, I decided not to touch any alcohol but that just means that I had to put up with the wild demands of the drunks..hahaha. One of em decided to take pics of us making real OT models..that was funny. TOOOO BAD that camera with our pics is LOST!!!! Hopefully they find it soon so that I can upload those pics up..HAHA =) Those guys who said they were coming and decided not to come in the end will get something from us soon..heheh *evil*

First of all, I would like to wish all the moms out there a VERY HAPPY MOTHER'S DAY!! I would like to give all my blessing to my wonderful mom for putting up with me for the past 20odd years. She provided me a shelter or should i say a haven, food, education and the many luxuries of life. How could i not be blessed to have such a wonderful person in my life.

Love ya Mom =)

Decided that I would finally go to the gym and have a good workout. Been feeling really tired these few days and also Ive got the feeling that I'm getting fat! haha. After sending my sis to uni I went over to a friend's place to chill before heading down to the gym. I ended up staying there longer than expected and kinda fell asleep too..LOL All hope was not lost when I decided to go join my bunch of friends for basketball. Can't even remember when was the last time i touched the ball.. =S Wasn't feeling too enthusiastic about the game but since I've already decided to do some exercise..i went down to the basketball court and decided that i might just shoot hoops. I was happy shooting hoops until this bunch of guys decided to come up to us and suggested a 3V3 match. Thinking that my skills aren't up to par and might disappoint the guys, I thought of just head off to my own little corner to continue my shooting..but before i could tell them that, they are already on the other side of the court calling me to join them o.O

We then had our 'warm-up' game..so basically was just a quick relaxing game to stretch our muscles. The game got heated up a little after a while and we decided to take each other on head to head. We won 3 straight games and I had to sit out after that to catch my breath and also to get ready to pick my sister up. Was pretty happy that my skills aren't lost down the drain. =)

What an unproductive weekend..just feels as if I've not done anything except work for this whole weekend =( Actually, I did do something..just some light readings and prepared the summary needed for my presentation next week..=Þ

Finally, I've decided to book myself in for a haircut. Sis been complaining that I look like a 'monkey' and I gotta say, my hair do look a little out of place sometimes. Was pretty lucky to get a booking today as someone just canceled their booking..yay!! As u can see, my hairdresser is really busy and it usually requires me to book 2 weeks prior. =) Usually, I would tell my hairdresser what kinda hairstyle to cut..but this time round, I made a bold move by leaving my hair in her hands. I gotta say, it did turn out alright but its a little too short for my liking. Oh well, guess I just have to leave it for a couple weeks or so before my hair grows to the length I like. =)

BoOo
. 21, 22nd July 1986, Cancer, Masters of Occupational Therapy Student, Sleeping, Dreaming, Fishing, Piano,
MSN: clboo86@hotmail.com
.
Piano
: Kevin Kern, S.E.N.S,
Violin
: Vanessa Mae, Merii, X Japan, Hide,
Silver Ash
, Kagrra.
+|in+
.
-ShAn-
.
This layout was created by
kogoroshi
. This layout features the photograph,
Paula
(1889), by Alfred Stiegliz. The image was edited using Photoshop CS with the aid of brushes from
1
,
2
,
3
,
4
,
5
.
Get awesome blog templates like this one from BlogSkins.com